by Jon on Jan.24, 2009 @ 12:09 pm, under Interface, Technology
This isn't exactly brand new, but hey, I thought I'd throw it up anyway.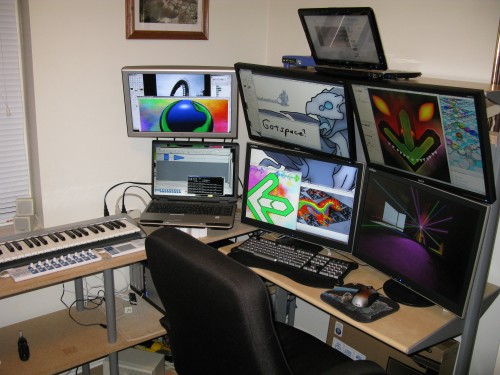 I guess I have an obsession for many motitors and screen space.
What you see:
Left 2 monitors: laptop and its second head.
Topmost monitor (on the shelf): tablet laptop.
Main 4 monitors: 22″ widescreens.  Two are connected to  a GeForce 8800 GTX (lower) and two are connected to a GeForce 9800 GT.  The combined resolution of just these four monitors alone is over 7 million pixels.
Mouse: Logitech G5: one of the best mouses out there.
Linksys router: Running DD-WRT this acts as a wireless network bridge to the network upstairs, where the modem is.
Keyboard/nanoKontrol/nanoPad – Some misc. MIDI devices for a sound project I've been working on.
Using Synergy I can control all three computers with one mouse/keyboard.
:lookwhatibuilt, monitors, real estate, screen
3 comments for this entry: