Tag: lies
by Jon on Feb.05, 2009, under Fantasy
(Random: just finished the third Eragon book.)
When I was in school in English class, one the oddest things I remember being taught was how the story line in a book or movie was supposed to go.
It was something line this: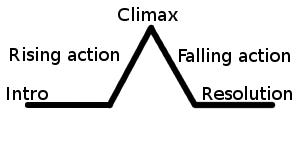 The teacher disclaimed, "It's not always exactly like this, the hill can be steeper on the side and sometimes that's more than one hill."
I wasn't all that much convinced, even at the time.
When I read a book or watch a movie, it's usually very much unlike that.  Yeah, there are more exciting and more boring parts, and yeah, it sometimes starts and ends boring (not even close to always), but beyond that there are no real similarities.
THIS is a plot.  Twists, turns, and more than one "climax".  If our school system was trying to foster the young minds toward the careful art of authorship, or to prime them in life to be able to readily recount anything more than a simple story, then they work working against heir goals.
Better question: Who the heck thinks this is important to even teach to kids?!?  I mean, seriously, if it was important, wouldn't they figure it out themselves?  How about instead of assigning us those boring, gory, lewd excuses that the world tries to pass off as "classical literature," they instead gave us some bestsellers and other good books to read instead? Wouldn't a young mind, engaged by a book that fascinates them, be more likely to not only read the book (instead of using their good friend the internet to get cliff notes), but wouldn't they be driven to gain a better understand the language of the author as well?  Isn't the point of a grade-school education to teach the student how to use language?  And was I ever paying attention to semantics when I couldn't hardly pay attention to the droll subject matter?
I decapitate this subject and make it it's own point with a failure to include a proper close.
2 Comments
:books, lies, plot, rambling
more...