Tag: pain
by Jon on Mar.15, 2009, under General
So.  I tried snowboarding for the first time yesterday.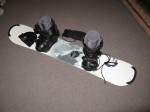 I suck.
Also, now I hurt and am sore.
I think that, if I was as good at snowboarding as I was at skiing, I would probably prefer it by a long shot, but I'm not there yet.
1 Comment
:life, pain
more...