Archive for March, 2010
by Jon on Mar.21, 2010, under Technology
This was just too good.  I was playing with video codes for real-time streaming of data off my webcam-crane-contraption and decided to try MJPEG.  I wasn't a fan of rewriting code to put it in the proper format, so for now I thought I'd just set a JPEG to refresh frequently.
So I did.
And it worked, moderately well: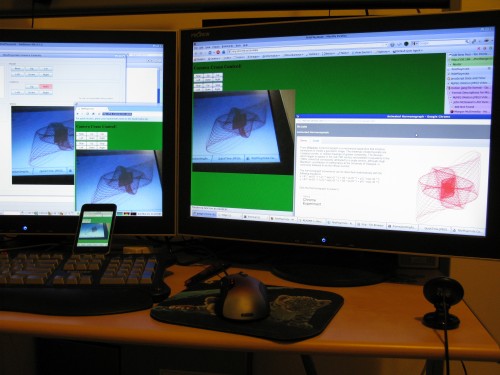 The best part though: It also works on my iPod! Plain 'ol Safari and JavaScript.  I thought that was pretty cool.  I guess Google, in building Google Chrome to handle the next generation of applications, wasn't too far off the path.
Comments Off
:hacking, internet, lookwhatibuilt, screen
more...
by Jon on Mar.03, 2010, under Technology
Let's see, so I bought a house, switched to Linux and now am hacking away at this:
Codename: TelePlaymutte.  'Cause I wanna play games remotely.  VOIP, CheckersOIP, DNDOIP, etc.

Comments Off
:hacks, lookwhatibuilt, wip
more...