Tag: the-things-we-do
by Jon on Mar.15, 2009, under General
In relation to something I said earlier, concerning playing with kid's card games, I have at least this to say in my defense:
The next day I saw three twentysomeodd kids playing Magic: The Gathering on their table at Arby's.
If I am childish and stuck with immature interests, the least I can say is that I'm not alone.

Comments Off
:
the-things-we-do
more...
by Jon on Mar.09, 2009, under General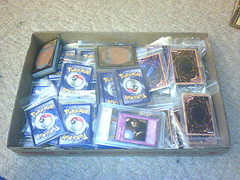 So I went over to my friend's house today, and while I was there, he and another friend spent a considerable amount of time discussing the various details of their plans to acquire every Pokémon in the latest Pokémon game.  They talked about how he had a Whoosher and he hard a hard time getting the Kiglebat and how he needed the Bellittlebox to make the Showlinxtre evolve.  (Yeah I'm making that part up, but only because I can't remember the details; this is the only point of mitigation that I can claim on this post.)
After that was over we whipped out ye many-years-old Yu-Gi-Oh card game decks, and not only did we have a crazy couple battles, one in which I cleaned up against the other players and one in which I barely pinched by on the wire, but we actually managed to show some semblance of remembering the rules!
What a handful of 20+ year old males have business doing either of those, I don't know, even if it's fun.
…

Don't tell anyone we hoped to date, okay?
Image Copyright 2008 rbatina, some rights reserved
2 Comments
:life, random, stupid, the-things-we-do
more...